One Family's Story
Writer's Note: This is a true story of one family's experience working with Bill Maher, Interventionist as told through a series of interviews with each family member. The names have been changed to maintain the family's privacy. We thank them for their willingness to openly share their story in the hopes that reading it may help other families.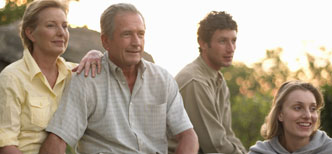 For several years there was the constant nagging worry about their adult daughter, Kelly. At first, they watched from the sidelines as Kelly struggled in her adult life—failed relationships, financial difficulty and personal pain. But over time, there were clues that alcohol and addiction might be part of the picture. Then one night the worry reached a crescendo. While visiting her parents to attend a high school reunion, Kelly wrapped the car around a telephone pole. She was badly injured and alcohol was a factor in the accident. Now her addiction had put her life on the line. They felt they had to do something. But what to do was not yet clear.
Mike and Diane became consumed with worry. Diane dealt with her concern about her stepdaughter's drinking by researching and gathering information about alcoholism. Mike tried to express his concern by speaking directly to his daughter who responded with polite resistance.
During Diane's research she learned of several models of alcohol intervention that described the common or "traditional" method—most involving a confrontation of the alcoholic by close friends and family, some involving an element of surprise, some using some threat as a way of motivating the alcoholic to get treatment. She knew in her heart that these methods would not be the best approach for her family. First of all, the distance of living on different coasts meant that they had few "incidents" to confront Kelly with. Secondly, Kelly was an independent adult, what realistic consequences could they use as leverage that would have any impact? And finally, as parents, they had always tried to be open and honest in their relationship with their children. The thought of sneaking around behind Kelly's back to organize some surprise attack was not in keeping with their values and would likely drive their daughter farther away from them. The stakes just seemed too high.
Then one day, while talking to a friend, Diane learned about an Interventionist, Bill Maher. She checked out his website to find out more. His method of gentle, respectful, invitational intervention was unique, and seemed a potentially more effective and less volatile method to reach their daughter. Both Mike and Diane liked the fact that everything would be above board. They also felt good about the way Bill worked—instead of confronting Kelly about her drinking, the entire family participates in an educationally formatted session to learn about the disease of alcoholism. Bill's method of family invitational intervention was designed so that the addicted person's self-worth remained in tact. And it did not result in the person being left with a boatload of anger, which often happens with "ambush" types of intervention. Diane was surprised to learn that when "invited" to attend the educational workshop, most of the people being intervened on do actually show up.
After speaking with Bill several times to gather more information and feel comfortable with the whole process, Mike and Diane hired Bill to conduct a family intervention.
The Education Begins
The preparation step included a hefty package of information from Bill that included very detailed "homework" assignments for Diane, Mike and Rob—Kelly's brother. They had decided, with Bill's guidance, that Rob would be the only other person involved in the intervention process because Kelly had enormous respect and trust of him. Each family member was asked to complete a series of questionnaires to thoroughly explore their feelings, concerns and understanding of alcohol, alcoholism and the effects it has had on their lives and their relationship with Kelly. It provided a wealth of background information for Bill to use during the intervention, but also helped the family members prepare for the intervention process by focusing a laser beam on the problem and how it had affected their family. "The homework distilled the emotions down into facts," says Mike.
During the preparation process, very little was shared with family members about what would happen exactly during the intervention. "We weren't coached at all," says Diane. This meant that family members had as much prior information as Kelly about exactly what would take place during the educational weekend. "No one was out on a limb by themselves, we were all in this together," says Diane.
During this phase of the process, as instructed by Bill, Mike called his daughter and explained that he had hired a professional to help him understand how alcoholism had impacted him and his relationship with her. "Great Dad, that's nice for you. I'm glad you're getting some help with that," was Kelly's verbal response to the news. Inside she was thinking, "No way am I getting involved in this".
A couple of weeks later a more difficult family task was assigned. Rob was asked to contact his sister. He was to tell her that he'd been talking with Dad about the educational weekend and that it sounded really important. He was planning to travel from his home abroad to attend AND, he wanted Kelly to come too. Rob had a deep love for his sister, but watching as the chaos of her life placed tremendous stress on their parents had changed his detachment into anger. "I was getting pissed off," Rob admits. Now he was to play a key role and he was scared. "I had gone from the supportive brother on the sideline to the quarterback on the final play of the Family Super Bowl of Codependency and Addiction."
Dry mouth and shaky hands, Rob made the phone call. Initially Kelly's reaction was "how nice for you, and no way am I coming!" The conversation was tense. "I want you to know you are putting our relationship at risk," she threatened. "But if it's that important to you, I'll think about it," she finally offered. For Rob, the relationship was indeed on the line. Had she not agreed, he was prepared to detach completely. Rob sent her an educational video from Bill and invited her to contact him directly to find out more. "I watched 5 minutes of the video—got pissed—and turned it off," Kelly now admits.
Over the next few days, Kelly talked things out with a friend and arrived at a position she felt comfortable with. She agreed to come to the "educational workshop". She knew it was about her, but was only agreeing to come out of respect and love for her brother and to help her family members feel better. Her reasons were all very altruistic. She made Rob promise that it was strictly educational and that they would not be ganging up or pointing fingers at her. He promised.
Alcoholism, the Disease, Goes on Trial
After a few weeks of working out the logistics, the time had arrived. Kelly and Rob flew to the east coast the night before the educational workshop. Two day-long meetings were set up in a local hotel. Kelly stayed at a different hotel, rather than at her parent's house. The next morning, Mike waited in the hotel lobby for Kelly (who was feeling very hung-over), so they could walk up to the room together.
During the first day, using PowerPoint and flip charts, Bill made a presentation about alcoholism as a disease. The information was factual and detailed. It explained the physiological, mental and emotional progression of the disease and how it impacts each person within the family. "The information was enormously helpful. It made it very clear that alcoholism is a disease," says Mike, "It was well articulated and non-judgmental. It never focused on Kelly's drinking, it was all about the disease." Bill's easy-going style and occasional humor helped ease the family-member's underlying anxiety. "Bill has a gift of communicating trustworthiness. He is able to read people and easily relate to them," Diane observed, "He comes across as a sensitive human being, not a detached professor." Rob was relieved that he didn't have to make good on his promise to Kelly that they would walk out at the first sign of judgement. "Listening to Bill was like listening to an old friend who just knows you. Poignant moments, cut between intellectual moments, cut between funny moments. Truth, compassion, love. Bill simply did not have a judgemental bone in his body, and believe me, my sister and I had the radar up full blast," says Rob.
"I was familiar with a lot of the information," said Kelly, "I had once attended family week for a boyfriend who had gone to treatment." But, she explained, "What was so powerful for me, was watching my family learn this information for the first time. I felt that they finally understood why this was so hard for me—I felt the judgment melting away." Kelly was starting to let her guard down, just a bit. Maybe they weren't going to gang up on her after all.
During the first day, Bill also shared parts of his story of growing up with two alcoholic parents, of his own struggle with the disease and his 20+ years of recovery from it. He also planted the seed that by the end of the weekend he would have recommendations for each family member. Kelly was sure her recommendation would be to attend 90 Alcoholics Anonymous meetings in 90 days.
One of the most powerful moments for Kelly was the presentation on brain chemistry. This was new information to her. She learned that alcohol changes the brain chemistry in people with this disease so that they lose their ability to make choices about their drinking. "So many times I had the intention of not drinking, and yet I would drink anyway," she shared. Now she understood why. Her shame and self-judgment were melting away, too.
When Kelly woke up the next day she felt at peace. Her defensiveness had given way to a sense of surrender.
Day Two—Turning Up the Heat
The family reconvened for another day of educational presentations. Today was the day to work on the family genogram—a family tree of sorts. It's a process that maps out family members through multiple generations and indicates which members were afflicted with the disease of alcoholism. Kelly and Rob's mother had died from the disease. Mike had divorced their mother because of her alcoholism when Kelly was very young. It was clear from this exercise that the disease had traveled through several generations within the family. Then a pivotal moment came when Bill announced, "We haven't yet talked about your children." He continued, "I guess we need to put them in the family genogram, too." He wrote down the names of Kelly's two children and Rob's one child. Then Bill asked if they wanted to know why he is in this business. He drew a line across the page of the family genogram, just under Kelly and Rob's generation. With emotion in his voice and pointing to the line he had drawn, he explained, "I want to break this cycle here, at this generation, so it doesn't go on to your children." It was an emotional moment for everyone.
Now came the promised recommendations. Individually for both Diane and Mike, Bill talked about their codependency, and enabling behaviors. He recommended they attend a week long Codependency Course at the Caron Foundation. Bill then shared his observation that throughout the weekend Rob had expressed concern and confusion about his personal relationship with alcohol. Bill recommended that he explore this topic further by attending 30 days of AA and Alanon meetings. It would help Rob decide which meeting he belonged in.
And finally, it was Kelly's turn. Bill recommended 30-day inpatient treatment. "What? No way. That will never work," Kelly responded. She had been fully prepared and willing to accept a recommendation of 90 days of AA meetings. But she couldn't see how as a single working mother she could just drop everything and go away for a month. "I spent the next 40 minutes explaining all of my objections of why this couldn't possibly work," says Kelly, "Bill took the time to calmly work through each objection to find a solution." The turning point for Kelly came during a private conversation she had with Bill. He spoke to her as one alcoholic to another. He shared some of his own story. He reassured her that everything could be worked out for her to go to treatment. "And," Kelly shared, "he said to me 'I will not abandon you. I will be there for you.'" She cried. Nobody had ever said anything like that to her before.
"OK, I'll go," she announced to the family as she walked across the room. But she wanted to be the one to make the arrangements. She had to make the phone call. It had to be on her terms. Bill had recommended The Betty Ford Center because of its proximity to where Kelly lived and their excellent children's program and family week. Kelly wrote the phone number down and promised to make the call when she got home. All the family members went their separate ways, with only hope and faith that Kelly would make that call. She made the call from the airport and agreed to check in the next week. Diane and Mike arranged to fly out to stay with the grandchildren while Kelly was in treatment. She worked things out with her employer to have a medical leave of absence.
Now six months sober, as Kelly looks back on the intervention and her experiences at treatment, she is very grateful for Bill's method of intervention. It was his gentle manner and the "I've been there, too" attitude that impacted Kelly and helped her agree to go to treatment. When she got to the Betty Ford Center, she was ready to get to work. Unlike many others who had the more traditional intervention, she did not have to spend the first two weeks working through the anger resulting from the intervention experience. Instead she spent the first two weeks dealing with decades of pain that had been stuffed inside. Part of why she agreed to go to inpatient treatment was because she knew that if she ever opened up that Pandora's box of pain, she would fall apart. As a single working mother, she couldn't afford to do that. The Betty Ford Center would give her the space and time to fall apart. At the end of the 30 days, she knew she wasn't finished, so she extended her stay for another 30 days.
Everyone is Changed
The family intervention process touched and changed each family member. For Mike, everything they went through has been worth it. He now truly understands that alcoholism is a disease, not a personal weakness. He feels much more compassionate toward those suffering from it. Mike sees their relationship with Kelly as more open and healthier. "The elephant isn't under the rug anymore," he says. Mike is also convinced that hiring a professional to manage the intervention was absolutely essential. "Bill set the tone, and managed a very fluid process. Everyone's integrity was kept," he says.
Diane began attending Alanon meetings and through the wonderful support and wisdom of that program is learning to love with detachment. Her anxiety and worry have dissipated. "Bill was so skilled at adjusting and responding to what was happening within the family during the process," she explains, "He has deep access to his own emotional range, and isn't afraid to show his personal vulnerability." In Diane's view, it was the focus on the disease and not on the individual that had the power to create a positive outcome.
Rob has a new understanding about alcohol, the disease, and how it has affected his family. He has also made significant changes to how he now consumes alcohol.
For Kelly, she feels a great sense of relief at finally having everything out in the open, and not having to hide anymore. Although none of the outer challenges in her life have changed, she says she has changed greatly on the inside. She now has tools to deal with life's difficulties, instead of turning to alcohol to numb out the discomfort. The communication dynamics within the family have changed. It is a relief for her to now be able to talk openly with her parents about what is going on in her life and not feel judged by them. Physically she feels tremendously better. "I don't wake up with night sweats every morning anymore, I'm not foggy anymore and I'm getting my memory back." She continues, "I'm so much happier, and I have friends, real friends, who I can share myself with on a deeper level than I ever did before. I have ways to deal with stress that I didn't have before. Difficulties in my life used to feel bleak, and although those things are still there, it is much better." "But mostly," she concludes, "it's a feeling that I'm not pretending anymore. I had been pretending for so long."
Written by Elizabeth J. McMartin