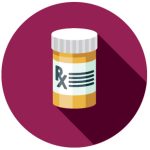 Addiction does begin with drug abuse when an individual makes a conscious choice to use drugs, but addiction is not just "a lot of drug use." Recent scientific research provides overwhelming evidence that not only do drugs interfere with normal brain functioning creating powerful feelings of pleasure, but they also have long-term effects on brain metabolism and activity. At some point, changes occur in the brain that can turn drug abuse into addiction, a chronic, relapsing illness. Whether the drug of choice is heroin or prescription medications, those addicted to drugs suffer from a compulsive drug craving and usage and cannot quit by themselves. Treatment is necessary to end this compulsive behavior.
Addictive behavior often leads to the person seeking the substance in larger amounts or over longer period than intended and a persistent desire or unsuccessful efforts to cut down or control the substance use. A great deal of time is spent in activities necessary to obtain the substance (e.g., visiting multiple doctors or driving long distances), use the substance (e.g., chain smoking), or recover from its effects resulting in a reduced amount of time given to family and friends, work, or previously enjoyed recreational activities.
The impact of addiction can be far reaching. Cardiovascular disease, stroke, cancer, HIV/AIDS, hepatitis, and lung disease can all be affected by drug abuse. Some of these effects occur when drugs are used at high doses or after prolonged use, however, some may occur after just one use.
Common Drugs of Abuse
– Acid/LSD
– Alcohol
– Club Drugs
– Cocaine
– Ecstasy/MDMA
– Heroin
– Inhalants
– Marijuana
– Methamphetamine
– PCP/Phencyclidine
– Prescription Medications
– Smoking/Nicotine
– Steroids (Anabolic)
A variety of approaches are used in treatment programs to help patients deal with these cravings and possibly avoid drug relapse. Research shows that addiction is clearly treatable. Through treatment that is tailored to individual needs, patients can learn to control their condition and live relatively normal lives.