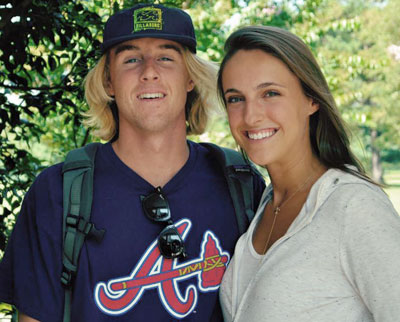 By Mary Gray Johnson
Maybe this makes me a bad person, but during the first month that my brother was in treatment I didn't miss him. In fact, I was glad he was there. I could take a sigh of relief knowing that he was alive and safe – one I'd been holding in for the last five years.
After catching my breath, the reality of his absence set in. I began to miss him, and I started thinking about his return home. This would be great! My brother was sober and healthy! Everything would go back to normal!
Do you see where I'm going with this? When someone gets out of treatment, things can't just go back to "normal." And that's a scary realization for most people – like my Dad, who had literally maintained the same daily routine for the past 25 years.
We realized that if my family kept living our lives like normal, we would be making it significantly harder for Fitzhugh to stay sober.
You see, we had become professionals at helping Fitzhugh's disease thrive. Our lives revolved around it. Mom kept him from flunking out of school, Dad paid his bills, and I covered for him whenever trouble arose. We kept him from suffering any of the consequences of his alcohol and drug abuse.
I'll go ahead and sound like a broken record – addiction is a family disease. Everyone in the family is affected, not just the addict.
Before Fitzhugh came home we had to take a hard look at ourselves – our habits, our family dynamics, and the trauma that we had been through. We had to change. With the guidance and support of Bill Maher and the support we found in Al-Anon, we found a new normal.
It wasn't easy, or fun necessarily. But we decided that if keeping old habits meant hurting Fitzhugh's recovery, that wasn't going to work for us. To our pleasant surprise, the new normal has been hugely rewarding.
Mom found a new troublemaker to keep tabs on in our new lab puppy – allowing some breathing room for both she and my brother. Dad started meditating and going to Al-Anon regularly, making him a bit more flexible in his daily routine. And I've reaped the huge reward of helping many friends whose family members have gone through the same thing as mine.
Through these changes to better ourselves, we've created a stronger support network for one another. And we're doing all that we can to support my brother in his health and recovery.
If your loved one recently went to treatment, call Bill so that you can learn to support them in recovery, rather than making sobriety harder. Bill can be reached at bill@interventionctr.com or call (804) 677-7728.