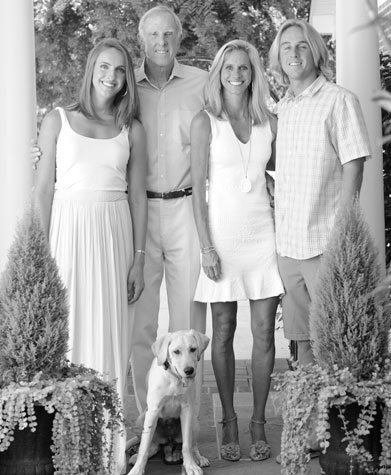 By Mary Gray Johnson
The morning after my last exam of sophomore year of college, I woke up to a phone call from my mom saying that my brother was in a drug-induced coma and the doctors didn't know if he would wake up. She didn't assure me that everything "would be okay." My normally unshaken mother couldn't fix this.
My brother is one year younger than me, and at the time we were both attending colleges in Virginia about an hour from each other. He drank a lot. He smoked a lot of pot. And he also took a lot of anxiety medication, as far as I was aware. In retrospect, his incessant substance use clearly showed signs of addiction and/or alcoholism. Since early adolescence he had caused my family huge amount of pain and embarrassment. I knew that his habits weren't healthy, but I justified it because he was in college. I thought that one day he'd outgrow it. Little did I know, he didn't know how to stop using.
The one-hour drive to the hospital, knowing that my baby brother might be dead was the worst hour of my life. I was physically sickened because I knew that I could have done something to avoid it.
Five minutes before I arrived at the hospital, my brother woke up. Fast-forward to a year and a half later, he is thriving in recovery, committed to the 12-step program, starting college again. And my family has found a peace that we never knew in the chaos of addiction. It sounds wrong to sum up such a life changing transformation in a few sentences, but the reason I do so is because there's a common denominator of our multi-faceted progress as a family. Our success wouldn't have been possible without interventionist and addiction counselor Bill Maher, CIP, CADC, BRI II, ACI.
He has offered gentle guidance from helping us select a rehabilitation center to facilitating our own recovery and educating us on how best we can support my brother in his sobriety. The only thing we regret about our journey is not involving Bill sooner. I wish I had known there was such a resource available – someone who could facilitate a family intervention that would have possibly prevented that unforgettably traumatic, life-changing hospital visit.
Bill Maher, CIP, CADC, BRI II, ACI is a member of the Action Intervention Training team, which includes Jean Campbell, LCSW, T.E.P., CET III, and Jim Tracy, DDS, MA, CADC II, LAADC, CET II, CIP
Their next training is in West Palm Beach, Florida hosted by the Hanley Center of Origins Behavioral HealthCare, February 25th – 27th, 2015. Register at actioninterventiontraining.com
If you're worried about a loved one, call Bill. Remember – college isn't an excuse for unhealthy drinking. If you know a college student that's standing out from their peers in terms of drinking or partying, it's not a warning sign, it's 911. Bill can be reached at
Interventionctr.com or (804) 677 7728